… Obituary: Jimmy Horne, 1943 – 2019 …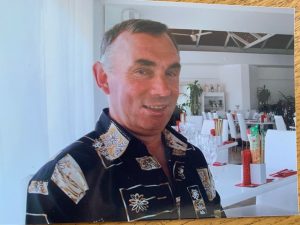 Husband, father, grandfather, garage proprietor, rally driver, and proud possessor of bad taste in shirts, Jimmy Horne passed away earlier this week after a long illness, borne with fortitude and good humour.
Although a quiet and private man, Jimmy was well known in Scottish rallying circles. He founded Mill Garage in Duns in 1974 and it wasn't long before he was running his own Mk1 Ford Escort in Scottish stage rallies.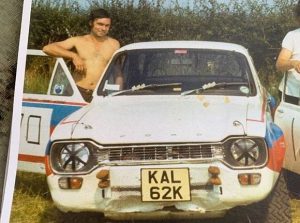 Rallying was never going to be a career for Jimmy, he was there to compete against like minded drivers and enjoy himself. That's why he never contested a full championship season although he did register to score points and get himself on the mailing list for Regulations.
That's when he first showed up on the rallying radar. He finished 9th Challenger overall in 'The Scotsman Scottish Rally Championship' in 1976. That pitched him into the 'senior' ranks for the following seasons. In 1978 he finished 18th Driver overall in the 'British Airways/The Scotsman Scottish Rally Championship' now driving a Mk2 Escort.
Appearances were intermittent, but he did enough events in 1980 to finish 8th overall in the Driver's Championship. Finishing ahead of him that year were Drew Gallacher, Ken Wood, Walter McDonald, Dom Buckley (Snr), Donald Heggie, Ian Wilson and Vince Finlayson. That was the sort of company Jimmy was mixing with. Serious stuff.
The following year on the 1981 Snowman Rally he was lying 5th when he skelped a banking and knocked a wheel off the Escort. This incident inadvertently caused a bit of a stooshie as next car on the road Donald Heggie couldn't get past and they had to wait until sufficient cars and crews had arrived to get enough bodies to clear the way. Remember there were no mobile phones in those days and on-stage radio coverage was pretty much non-existent 30 odd years ago so Rally HQ were unaware of the impending drama until the cars started arriving back at the Finish and folk started moaning and protesting.
Quiet and stoic Jimmy and co-driver Ashley Strachan were the innocent victims as blame and counter blame whistled backwards and forwards over their heads. There was one silver lining, when the Stage was cancelled Jimmy was back in the rally. He had repaired the damage and finished the event in 14th place overall!
There was another protest at the end of the following Hackle Rally. This time Jimmy wasn't involved but he did benefit, moving up from 9th to 7th and gaining an extra Championship point.
On the John Wilson Bedroom Stages Jimmy and Ashley were once again on the boil, till the Escort bent its propshaft in the morning stages. He 'persuaded' it back into almost perfect alignment with a big hammer. However, when the gearbox broke in the afternoon stages Jimmy's diagnostic skills quickly surmised that this time it was beyond the scope of his hammer wielding skills, and he was out.
Another retirement followed in Aberdeenshire when the head gasket failed on the Clashindarroch stage of the Granite City Rally and then on the Jim Clark Rally, he had the bit between his teeth after two retirements on the trot. Perhaps too much. He went off backwards in Otterburn! He was soon back on the road but mechanical failure later stopped play.
That was followed by a fine 12th o/a on the Esso Border Counties Rally which was a counter in both the BTRDA/SRC championships and rounded off his season with half shaft failure on the Trossachs. 18th overall in the Championship was poor reward for his efforts.
1982 promised much but delivered little although he scored his best ever individual result in that season. The season started poorly with 14th o/a on the Snowman after a day spent nursing a car beset with electrical problems.
One of his favourite events, the Hackle Rally had snow in 1982. It wasn't deep snow but it was deeper in patches – usually out of sight around corners! That helped those with underpowered cars and where skill counted more than brute power. Jimmy Horne benefitted, although even he didn't escape Scot free.
He was fighting with Kenny Stewart for 2nd place behind Ken Wood when his sliding Escort struck a felled tree with its trunk sticking out at the edge of the road. He hit it with such an impact that it pushed in the co-driver's door, sill , floor and seat mountings with the result that Ashley Strachan was sitting 10 inches closer to and slightly above Jimmy! Remarking on the apparent 'intimacy' of the pairing a certain reporter suggested: "We'll need to throw a bucket of water over that pair of lovebirds before the day is out". The reward was 2nd overall and possibly Jimmy and Ashley's best Scottish Rally Championship single result.
A visit to Hospital was called for on the John Wilson Bedroom Stages when the Escort rolled into a bog. The X-Ray revealed nothing broken but Jimmy was bruised and sore although co-driver Doug Redpath was OK.
Re-united with long time co-driver Ashley, the Granite City Rally provided meagre reward. They finished 28th o/a after a day countering electrical gremlins and a puncture in Clashindarroch which cost them 4 minutes.
The Esso Border Counties Rally marked a return to form with 16th o/a out of an entry of 114 cars in this joint BTRDA and SRC counter and he finished 11th overall in the end of season rankings.
Jimmy's own rallying took more of a back seat after that as his sons Stephen and Michael were fast growing up. Three years older than Michael, Stephen was a talented footballer and played in the Edinburgh Junior leagues which necessitated frequent trips to and from Duns to Edinburgh two or three times a week.
Towards the end of the 1980s when Michael 'came of age', Jimmy helped him buy his first rally car, a Talbot Sunbeam and Jimmy was back amongst folk he knew in a sport which he relished. As Michael said, if it wasn't for Dad he wouldn't have been able to go rallying. In 1994 when Michael won the Scottish Rally Championship and became outright Scottish Champion, there was no-one prouder than Jimmy.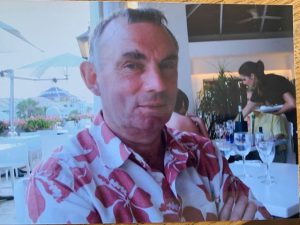 Jimmy was one of those rare folk who thought first, before saying anything or volunteering an opinion. On that basis, what he said had merit, whether you agreed with him or not. That considered approach to commenting had another side-effect as he could offer up a token of whimsy or a joke in such a serious fashion that folk would initially take him seriously – till his face cracked into a grin. Aye, he could be quite mischievous at times.
The world of Scottish rallying has lost a good pal, but his wife Margaret, sons Stephen and Michael and grandchildren, Abigail and Rebecca, and Chloe and Liam, have lost so much more. Our thoughts must be with them at this sad time.