… Obituary …
Donald Stewart Milne, 1952 – 2017 …
The New Year was barely a few hours old when the tragic news came through that Donald Milne had been fatally injured in a flying accident on Saturday 30th December 2017. Donald's Bucker Biplane light aircraft was struck by a helicopter at the private Mutxamel airfield near Alicante in Spain. Donald succumbed to his injuries later that evening.
Although he had been living in Spain for the best part of 20 years, Donald was better known to Scottish rally fans as the 1991 Scottish Rally Champion. At that time he was running Apex Tubulars, a North Sea Oil drilling services company in Aberdeen, and like many other successful businessmen used rallying as a means to escape the pressures of business for a few precious hours.
Unless you were around in those days, you will have little idea of what Aberdeen and the North East were like in the early days of North Sea oil exploration and drilling. It was like the 'Wild West', and I don't mean Oban and Tobermory, more like Dodge City and the great California Gold Rush. There were stetsons and cowboy boots everywhere and drawling American accents mixed in with Scots and Doric. It was mayhem. The pressure on local businesses and services was intense, and business survival depended on being the fittest and the fastest, as well as the brightest. Hence the need for an adrenalin filled form of escape.
Donald's career in rallying spanned just five years but he achieved more in those 5 years than some folk did in a lifetime of rallying. In 1986 he hired Ken Adamson's Nissan 240RS for a run out on the Kingdom Stages and Lindisfarne rallies and returned the following year for a few more outings in the Nissan plus a Ford Sierra and Toyota Corolla GT.
He really caught the bug in 1988 campaigning a variety of cars which included an MG Metro 6R4 and a 2.4 litre Nissan engined Peugeot 205 RWD as well as the 240RS. His first outright rally victory that year was scored on the Panaround Stages, but he also score two 3rds, three 4ths and a 5th plus a few other top ten finishes on other events.
On the 1988 Kingdom Stages Rally he was seeded at Number 7 in the Peugeot Nissan while a certain Colin McRae was at Number 6 in the Sierra. Donald finished 3rd, but Colin was 2nd while a certain David Gillanders won the event outright. One can only imagine the banter that ensued that day, because the rivalry had carried over from the Autofit Stages in Argyll earlier in the year when Donald loaned Colin his Nissan 240 RS.
Colin had started the 1988 season in his Nova, but Donald was already aware of the youngster's speed and potential. There was another issue at stake here too, Donald's rivalry with David Gillanders. So Donald thought it would provide a bit of fun to see what Colin could do in the Nissan. Anyway, David won the rally in the Metro 6R4 with Colin 2nd just ahead of Murray Grierson in the Opel Kadett 400. But nobody was more delighted than 4th placed Donald as all that interested him was Colin's pace and giving David a hard time!
The rivalry and banter continued on the Jim Clark Rally where Pete Slights won outright in his Metro 6R4 with David 3rd in his 6R4 – and in between the two was Colin driving Donald's RWD Peugeot Nissan. Donald was 11th in the Nissan 240RS, but again he was hard put to hide his glee at Colin's performance.
Due to pressure of business Donald tackled just a few events in 1989 but the Peugeot was proving mechanically troublesome. The Metro 6R4 was wheeled out for a couple of events in 1990 resulting in his second outright victory, this time on the Johnstons & Paton Rally in Argyll and 3rd on the Scotphone Stages.
That set him up for 1991 and he resolved to have a crack at the full national Esso Scottish Rally Championship series. Typical of the man, another Metro had been acquired, but it had a Nissan 240RS engine in the back and with Bob Wilson on the Roadbook, the pair set about their championship attack. Three straight wins on the Snowman, Scotphone and Weldex were followed by a maximum point score on the RSAC Scottish National event. He finished 2nd behind Murray Grierson's Metro Hart on the Jim Clark Rally and was 4th on the Border.
This was a particularly satisfying result as Richard Burns was 3rd in a Subaru Legacy behind rally winner Stewart Robertson and runner-up Dom Buckley.
Job done. Title clinched.
There was one other brief foray, and that was in 1994 when he teamed up again with Bob Wilson and wheeled out his MG Metro 6R4. He started the season with a bang winning the Snowman, finishing 3rd on the Valentine behind George Gauld and Neale Dougan, and then beat arch rival David Gillanders to the victory on the Granite City. He next won the Weldex ahead of Dougan and was 12th on the RSAC Scottish after trouble with the car, and that was it, rallying finished.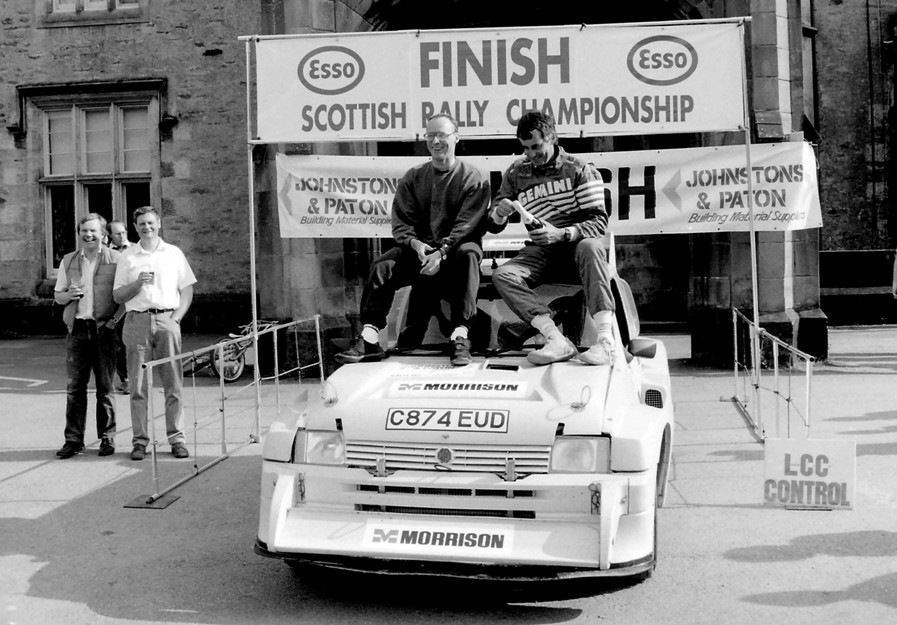 After that he reverted to his other great passion in life, flying. Although he used helicopters for business as well as fun, he preferred fixed-wing aircraft for leisure hence his acquisition of the Bucker. He had recently just purchased two more aircraft which hadn't yet been collected and already the family were issuing advice!
Quintin told me that it would be OK to publish this direct quote when his Dad was being told that he should be taking things more easily at his age, to which his response was: "I'd rather '**' go in my beloved aeroplane than having you '**' spoon-feed me later on." He would have been 66 this month.
Even when he had 'retired' from rallying he still retained an interest and there were times here at home in Castle Bunnet when the phone would ring late at night or in the early hours, and it was Donald looking for the latest gossip and who was doing what. Invariably he was sitting kicking his heels in some exotic airport waiting for connecting business flights. He would announce himself with a chuckle never bothering to ask if I was in my dressing gown heading up to bed or in my pyjamas having got up to answer the phone.
Mind you, he wasn't the only one in those days, but I can give you one example of his thoughtfulness. Shortly after the 1991 Scottish Rally Championship awards night, the local postie staggered up the drive to the portcullis carrying a small but very heavy parcel. I opened it up to find a wee note of thanks from Donald and enclosing a small token of his appreciation. Inside was a table/desktop lighter fashioned out of a genuine (used) drill bit from a North Sea Oil Well drilling rig. No wonder it was so heavy, it even made a dent in my desk. And you know what? I still have it, and it still works, and I won't part with it.
I'm sure all our thoughts and best wishes are with his wife Fiona, the boys Quintin and Freddie, and their relatives and wide circle of friends. He'll be sorely missed.