… Kris Meeke previews Rally Wales GB …
Kris Meeke is bidding to conclude the career of one of the most successful cars in FIA World Rally Championship (WRC) history, on this month's Dayinsure Wales Rally GB (27-30 October), and he'd like to bow out in style with a first home victory since Richard Burns and Robert Reid won in 2000.
Last year, he finished runner-up in Wales behind multiple World Champion Sébastien Ogier. This time around, he is firmly focused on turning the tables and emulating his former mentor Colin McRae, who won the event back in 1997, wowing the then teenage Meeke who was attending his first RAC Rally as a spectator.
"I'll never forget it," he enthused. "I was over with the Queens University Motor Club. Everything I'd read about this event, everything I'd thought and hoped for, it was all there. It was perfect.
"Rally GB is fantastic. I'm not just saying that because it's my home event – it's true. It's everything in the way the place gets your senses going – the smell of mud on the hot exhaust, the smell of the pine trees, the changing colours in the trees and the unpredictable weather. It's everything – especially the roads. These are the roads I drove my first-ever rally on, so they're always going to be special to me. I love it from the minute I get to the first stage on the recce. It just means something a little bit more at home.
"What you get is that little something that says you're competing in front of your home fans on some of the best stages in the world. Irish Corner in the Dyfnant stage is absolutely epic. Those guys have worked so hard at making it something special and it really is – it's amazing to come through and see that much support, the flags and banners and the klaxons going, but to be honest, it's like that the whole way along the route. The fans are definitely coming back into the forests now."
The forests are sure to be packed full of enthusiastic spectators again next month, with strong ticket sales in the build-up to the 2016 edition of Dayinsure Wales Rally GB. While he dismisses any notion of a 'home advantage', it is clear that the Dungannon driver has the top step of the rostrum in his sights – a result that would mark a fitting swansong for the DS3 WRC, which has claimed no fewer than 26 WRC victories and four world titles since making its top flight debut back in 2011.
"A lot depends on the weather in Wales," he cautioned. "We've seen in the fairly wet conditions in the past that it's definitely a bonus to be running first-on-the-road and, after the year he's had, I don't think anybody would deny Séb [Ogier] that, but at the same time, we're that wee bit earlier in the year, so maybe it could be a bit drier. It's the last event in a DS3 WRC and it'll be the last rally of the year for me, so whatever the weather, I'm going out there to enjoy myself."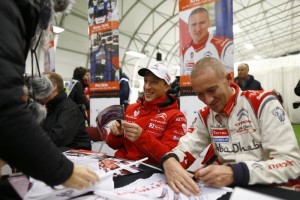 Last year when he arrived in Wales, Meeke was fighting for his future, but 11 months on, he will return with a three-year Citroën contract in his pocket and a relaxed demeanour, with no pressure to get results or weight of expectation upon his shoulders.
The 37-year-old has spent this season dovetailing a part-time programme of WRC events – winning in Portugal and Finland to add to his breakthrough victory in Argentina in 2015 – with development of the French manufacturer's C3 WRC in preparation for the championship's new rules next year.
"A year like this is what I've always wanted," he acknowledged. "It's been the chance to develop a car with a world-beating manufacturer like Citroën from scratch – the chance to build a team around myself and put us both into the best possible position to challenge for the championship. It's been an absolute privilege to work with the team. It's been brilliant.
"The dream has to be to come to Rally GB fighting for the championship – and then winning it, of course! That's what I've wanted ever since I was in the back of that Queens University Motor Club minibus all those years ago, and if it's not this year, then I'll be back next year for another go."
Meeke's addition to the Dayinsure Wales Rally GB entry list will give fans even more reason to get excited about the event, with the very real prospect of a popular home triumph for a driver who is unquestionably performing at the very top of his game on the international stage.
"We're thrilled that Kris and Paul [Nagle – co-driver] have been confirmed for Dayinsure Wales Rally GB," said event Managing Director Ben Taylor. "I'm sure the fans will be out in force in the forests cheering them on and hopefully their support will help spur the pair to the top step of the podium.
"There's no question that he has both the talent and the car to conquer this most challenging of rallies, so British hopes are high indeed. It's going to be a spectacular event from start to finish!"
Tickets on sale


Tickets for October's event are on sale with significant discounts for those buying in advance. Adult ticket prices start at just £20 for the family-friendly RallyFest at Cholmondeley Castle, £25 for a day ticket or £99 for the full four-day event pass. All tickets include free parking and an event programme priced at £9. Accompanied children aged 15 and under are admitted FREE – a real half-term treat for families. The latest event and ticket information can be found on the official www.walesrallygb.com website and the official Rally Planner is now live online allowing fans to plan their visit.