… Organisers of Jim Clark Rally issue a Statement … with a preamble by the Editor, Mr J Bunnet Esq. …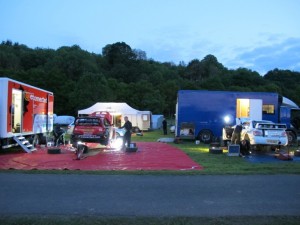 There is an awful lot of conjecture, supposition and uninformed opinion racing around the 'facetweetblogosphere' at present, but also many expressions of sympathy and support from all quarters regarding the recent decision to cancel this year's Jim Clark Reivers Rally. In order to clarify the position the organisers have issued a Statement – see below.
There is however a wider issue here. Over the past two years we have lost three major forest rallies in Scotland, the Merrick, McRae and now the Reivers. It would appear that whilst the three main events in the Highlands always seem to attract healthy numbers, those in the south don't fare so well. Apart from the three we've lost, the Scottish has struggled in recent times, but should be OK this year since it is now back in the BRC, while the Galloway Hills regularly fails to attract a big Scottish entry although it benefits from a mini Irish invasion each year as they appreciate a good thrash in some good woods.
Many try to play down the North/South divide but the numbers speak for themselves. Now there are rumours of an event being re-introduced to the Cowal peninsula. If folk won't travel to Galloway or the Borders what will they think of the wild west? This idea was tried in 2010 and 2011 by Mull Car Club to try to resurrect the old Burmah Rally and Argyll Stages events and bring back some of the best forest stages in Britain, but it failed due to lack of competitor support.
And yet the tarmaceers are happy to travel to Campbeltown for a two day event. It doesn't make sense. The Mach 1 Stages at Machrihanish has had full entries for the past two years and folk are getting excited again about next month's event. Mind you, that could be partially down to the fact that the Scottish Tarmac Championship is struggling to find new venues to host rounds of their series with the future of Crail again under threat. The other reason is, it's a damn good thrash anyway.
Entry fees are pretty much the same for all forest events so the only difference is geographic and this needs to be addressed. What would tempt those in the North to do more events in the South?
In this case I think the Reivers running on a Sunday worked against them as most folk seem perfectly happy to travel on Fridays and go home late on Saturdays which gives them Sundays to wash down the car / spend time with the family / chill out with beers and TV / do the weekly shop or go to church. However, if it does get back on tarmac for next year then that should solve the problem in the Borders.
As for introducing new events in this area or in the Central belt then the issue of attracting more northern based competitors becomes one of the most important aspects. Another factor also needs to be addressed, attracting new folk to take up the sport.
Saint Digby has done a marvellous job with the 14-17 year old Ecosse Junior series, but where do they go from there once they reach maturity? Parents and competitors are faced with immediately bigger bills. The sport needs to recognise this and provide additional support and encouragement.
Once upon a time, the Forestry Commission levied a charge based on 'per car per mile' before introducing a flat rate mileage charge in the early 1980s to use forest roads. This was actually encouraged by car clubs at the time because just about every rally had a full entry and reserve list and it was felt that a flat rate would be more beneficial. Perhaps now is the time to re-think that ideal.
If a 'per car per mile' charge was re-introduced that would make events with 60 entries just as viable as events with 100 plus. In fairness to the FC there would need to be a minimum entry to assist them with forward planning and budgeting – and preventing just anyone running a 12 car through the woods when they felt like it!
Organising such events would not be any easier though as all the current rules and regulations would have to be implemented and that might put the less serious car clubs off the idea anyway. On that basis, such a new system could actually be self-regulating with the MSA just making sure matters didn't get out of hand.
Anyway, it's a thought.
And lest we forget, although that is highly unlikely since the general non-specialist press and media won't let us, the whole Jim Clark Rally issue was occasioned by a fatal accident two years ago. But what the media constantly fail to report was that it was two of 'their own' who were involved. Iain Provan and his partner were 'signed-on' as members of the media representing a media outlet. I had known Iain for over 30 years and first met him in his pre-media days when he was a businessman, but he had two guests travelling with him on that fateful day who were not signed-on and were not known by the event organisers to be travelling with him.
Journalism is a profession like any other, and if family members or friends do travel to events with journalists, then they should be regarded as spectators and go to spectator areas. Journalists benefit from privileged access in order to assist them with their job of reporting and photographing events,
and for others to try and benefit from journalistic privilege is not right. Hence, what I believe to be the public media's reluctance to state the facts – and this despite a right haranguing match with various BBC folk last year when they got it wrong the first time!
As for the official line from the organising team of the Jim Clark Reivers Rally, here it is: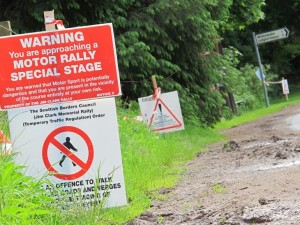 2016 Rally cancellation
Statement from Club Chairman
The Jim Clark Memorial Motor Club executive committee decided to cancel this year's forest event. Here is the background to that decision.
• Since 2014 the club's intention has been and still is to run the JCR closed road event which had become one of the biggest and most successful rallies in the UK.
• Until the Scottish Crown Office has finished its enquiry, now 2 years old and continuing, into the fatal accident in 2014 involving accredited members of the press, the JCR cannot return to its closed road format.
• The club is striving to have this situation resolved and has therefore has served its statutory notice to government of its intention to run on closed roads in 2017. This is what the rally world wants us to do and it is right for the development of our sport and the economy. (The JCR generates about £3.5m income to the Borders each year). We have overwhelming support from the public and the sport for this strategy. To do this we must have cash reserves available.
• To keep the rally's name in the public eye and keep our place in the rally calendar, the committee decided to run a forest event in 2015, expecting to be back on closed roads in 2016. Despite sponsorship, the 2015 event made a significant loss and depleted our reserves substantially.
• Following a similar logic, we planned a 2016 event but it became clear by entries closing date that another substantial loss was going to be incurred, again despite sponsorship, and the decision was made to cancel to preserve our cash and keep the club in existence.
• We required 85 entries to break-even, after including sponsorship. The minimum of 75 entries stated in our regs represented the number of paid entries required before the loss made the financial situation unsustainable. The 69 entries received, though very much appreciated, simply weren't enough.
• Prior to taking any decision on cancellation, the Scottish Rally Championship offered JCMMC a loan of £10,000 repayable in 2017 from reserves if we failed to run on closed roads, thinking this would allow us to run the 2016 event. SRC was trying to be helpful and this was appreciated but it did not address the problem of depleting reserves and this was explained to the SRC when JCMMC declined the offer.
• The JCMMC executive committee is fully committed to returning the JCR to closed roads whenever the Crown Office enquiry is complete, whether in 2017 or later and to do so we must preserve our cash fund. This is the reason for the 2016 cancellation.
We hope the rally world will understand and support our strategy and will unite to help make it happen. Our sport has enough problems outside without internal ill-informed bickering and we urge all to recognise the harsh realities of rallying economics and finding ways of taking the sport forward.
Professor Dan Wright MBE
Chairman
Jim Clark Memorial Motor Club
**