… Robert Reid and David Bogie sign up for GoRally …
If you want to go rallying, start here! …
Former British Rally Champion and five times Scottish Rally Champion David Bogie and World Rally Champion Co-driver, Robert Reid, are the latest names to join an all-star cast at GoRally on 4th Feb at Newbridge near Edinburgh. They will be joined on the night by the current Scottish Ladies Rally Champion, Caroline Carslaw and rising star, Blair Brown.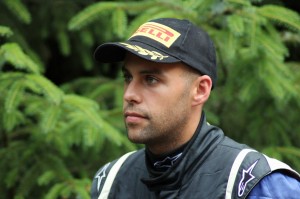 At 29 years of age, David Bogie has achieved huge success in a career which started when he was 14 years of age competing in autotests. In 2004 he contested his first ever stage rally in his 1300ccc Vauxhall Nova just days after his 17th birthday, and the rest, as they say, is history!
Along with Caroline and Blair, David is looking forward to chatting with visitors and is happy and willing to answer questions about the sport, how he got started and what he has achieved.
So if anyone out there wants to find out how to start rallying, this is the ideal event, and it's FREE.
Here's another question. What is a 'hairy line', a 'spot height' and a 'grid square'? The answer? Essential clues for Navigational Rallies.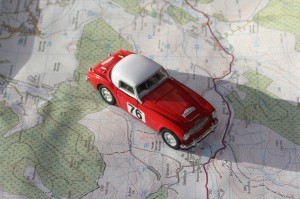 Long before Satellite Navigation was available for cars, seasoned travellers rarely got marooned in fords, stuck up a cul de sac or lost in the wilderness, because they had maps, an understanding of geography and were able to calculate distance and direction. Nowadays, if your SatNav goes on the blink and you can't get a phone signal then you're stuck till a St Bernard or the Polis find you.
Not only do 'the lost' have no idea where they are, they have little idea of how they got there, blindly following the robotic directions issuing from the dashboard. That's just one reason why Navigational Rallying is so popular.
It not only teaches youngsters basic map-reading skills, but also provides a three dimensional real-life 'computer-game' on how to get around the country using maps and instructing their driver.
In fact many road rally navigators do not make the transition to stage rallying preferring to stick with this branch of the sport which caters for 'newcomers', 'intermediates' and 'experts'. And there's no need for an expensive competition car. This sport only uses standard roadgoing cars or classic cars. In fact, your Mum's 'shopper' or Dad's van will be just the business.
And if anyone does aspire to the top ranks then it is worth remembering that both Derek Ringer and Robert Reid started their motor sporting careers in navigational rallying. Derek went on to win the World Rally Championship Co-driver's title in 1995 with Colin McRae, while Robert won it with Richard Burns in 2001.
At GoRally, visitors will be able to see what's involved, and a sample 'table-top' road rally with experts will be there to try out.
And if all this sounds a bit much, there will be a representative and a display from 'GoMotorsport', the Motor Sport Association (MSA) governing body's initiative to introduce people from all walks of life to what all types of motor sport have to offer.
A free Prize Draw for all visitors will also be held on the night with the winner walking away with a Knockhill Rally Experience voucher and there will also be a £50 Voucher from Turner Autosport for second prize.
GoRally
Date: Thursday 4th February
Time: 6pm till 9pm
Venue: Courtesy of the John Clark Group:
The Pentland Land Rover showroom, Hallbarns Crescent, Newbridge, Edinburgh EH28 8TH
Cost: FREE
Snacks: Courtesy of Tunnock's Bakeries in Uddingston