… To the Hills …
Scottish stage rallying has been under the spotlight this past year for all the wrong reasons. It's still reeling from the aftermath of the three fatalities last year. What might have been a simple rally accident was made catastrophically worse by the thoughtless irresponsibility of one individual and was no fault of the rally organisers or the sport, but that is only a personal opinion.
Even so, it was at this point the Scottish Government stepped in. Although the sport has been getting better organised and safer over recent years, they took the view that change wasn't happening fast enough. It was time to roll up the sleeves and break sweat. That has resulted in the latest edition of the MSA's 'RallyFuture' guide, which has just been published, to instruct and advise the way forward for multi-venue rallies.
As yet, we still await the final ruling from the Lord Advocate, a ruling which was delayed when the 'Glasgow Bin Lorry' accident took priority, but this will be published in January (hopefully) at which point we will have a clearer idea of the way forward and get back on with the sport.
Whether that has had an impact on rally entries this past year remains to be seen. But it's not just lack of entries that are causing concern, the increased workload required of amateur organising teams has reached such a point that many volunteers are questioning their commitment. Many have complained that the fun and enjoyment of organising rallies has been be replaced with compulsion and compliance.
Part of the appeal of rallying in the past was that each event had its own personality, characters and idiosyncracies. From now on, rallies will start looking very similar in concept and execution. Let's face it, a Scottish tree looks pretty damn similar to an English or Welsh tree.
And so it was that a visit to the Scottish Borders Hill Rally the other weekend provided much needed rallying refreshment.
It was like stepping back in time to an era when rules were relaxed and costs were affordable. For sure there were motorhomes and awnings, but no 'fenced-off' works teams. Everyone was cheery and welcoming.
Speeds might be slower but the spectacle is still there, plus there is the aural attraction of V8s and V6s, the shrill note of 1 litre 4 cylinder motor cycle engines and the rhythmic beat of diesel 4s. On that point, Colin Stevenson's 6.2 litre V8 Simbughinni is a star attraction. It fair tingles the tootsies on a cold and frosty morning as it thunders past the vantage point.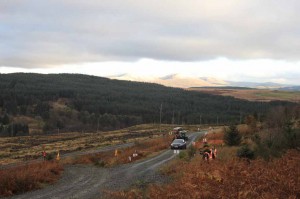 Enhancing the appeal, there wasn't a fenced off spectator enclosure in sight. For sure, all the junctions were well taped and spectators advised where to go but none of the nonsense we are currently experiencing on the car side of the sport. As long as you were sensible the Marshals were happy.
And there's more. The Entry Fee was £425 for 100 miles of stages and run on a National B Permit. There were 8 stages on Saturday afternoon including two run in the dark that evening and a further 5 stages on Sunday morning. The event was held entirely within a private forestry estate in Dumfries & Galloway, so there was no road mileage so no need for an MOT or Road Fund Licence. Neither were there any Route Notes or DVDs, so no additional cost. It was down to maps and Roadbooks only!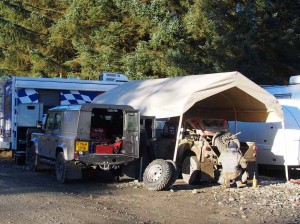 There were no fancy refuelling rigs in Service and all cars had to run on pump fuel. It's also worth noting there is no need for fireproof suits and other clobber (although it is recommended) while seats, belts and cages are not so stringently regulated. The only requirement is a 'proper' MSA stickered crash helmet.
In fact, the biggest expense is probably laundry bills after each event. Many of the cars are open to the elements and as we all know, Scotland has a huge variety of elements which are delivered daily with gusto! Drivers and co-drivers needed to be pressure washed as much as the machinery!
This is a sport where competitors and organisers are treated like grown-ups rather than their over-regulated, over-restricted counterparts in stage rallies.
And I just loved the phrase 'rustic camping facilities' in the Regs. The only concession to comfort was a row of portaloos in the service/camping area.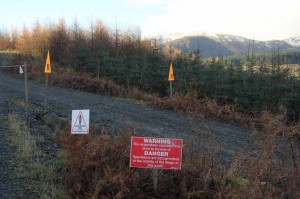 Admittedly, these events don't attract the numbers of spectators that turn out to the more popular forest stage rallies, but what it did prove is that spectators can be safely accommodated if given proper direction and instruction. By all means direct them away from stage Starts and Finishes, but perhaps allow a bit more freedom and personal responsibility in other areas.
At the present time there is no need for a Safety Delegate being chauffeured through the tests ahead of the field and heaven forbid that this should be deemed necessary in the months to come. If Hill Rallying comes to this then it could suffer just as badly as its faster cousins.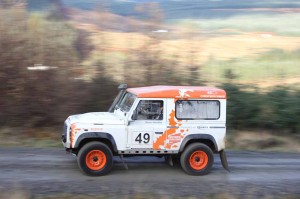 But the point is, here is a sport that offers many of the same challenges as a one day forest rally. Of course, speeds are slower, but so too is the speed at which it will empty your wallet and bank balance! Compared to 'normal' stage rallies, front running cars cost a lot less, the technology is simple and running costs less criminal. OK you might get cold and wet, but so do the Marshals and they still love it!
As an alternative to 'proper' stage rallies, it might not be to everyone's taste – but I'll be back. Now where have I heard that before?
The Scottish Borders Hill Rally is on Motors TV on Christmas Day at 7pm, but check the schedules before you set the recorder.
**