Stuart Loudon looks back on 2013 World Championship …
At the conclusion of his 2013 World Rally Championship season, Stuart Loudon spoke to Iain Campbell. As Scotland's only representative on the world rally stage, Stuart has a tough act to follow with Derek Ringer and Robert Reid both having won World Co-Driver Championship titles. And with no obvious driver on the horizon, Stuart has the hopes of a nation resting on his youthful shoulders.
Q: So after seven rounds of the 2013 World Rally Championship, six of these with the Tunnock's World Rally Team, what has been the highlight?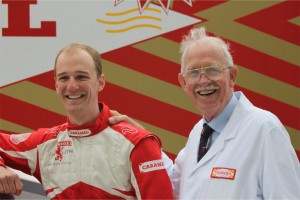 A: That's a hard question to start with, there have been so many great moments this year.  Competing on Monte Carlo was a great experience, flying through the famous Ounipojha stage in Finland was amazing but I suppose Portugal was the real highlight.  To claim second place on our first event as a team was just brilliant.  The podium was not expected but the pace was good, we took no risks and it all went better than planned.
Q: At the start of the season, did you expect to have such a successful year or was it a big surprise?
A: It was definitely a surprise.  To get two podiums in our first year when really we were just out there learning the stages was more than we expected.  We just wanted to finish every event, not to necessarily be blindingly quick, just to pick up the experience.  OK, we didn't manage that in Germany where we retired on the first stage.  I'll need to remember to alter that pace note call to 'don't cut' for the future but everywhere else we did what we set out to and then got onto the podium on a third of the events we did.  Great stuff. 
Q: What was the best event of the year for you, but also what was the best event for the spectator?
A: The answer to both bits of that question is either Finland or France.  Finland would be the expected answer as it is the home to rallying; the stages are fantastic, to be travelling flat in 5th gear over these crests is just the most incredible feeling.  The Finns just love to push on everybody, they support us all.  But then in France the sheer number of spectators that are out on the stages, there are cars parked for miles around the route with fans out to see the cars.  That was probably the best spectator experience. 
Q: This has been your biggest rallying campaign since you started co-driving, what have you learned?
A: I've had to up my game big style throughout this year.  I have had to be so professional and to take my work rate to another level.  This was especially apparent during Monte Carlo with Ryozo.  It was his first ever WRC event, it was our first time together on perhaps the most difficult rally of all but I had to guide and coach him through it. 
Being in the Fiesta with Rob was similar in that Rob had never been to any of the rallies we contested before.  The difference is that Rob knows about international events but I was there to guide him through the protocols of the World Rally Championship on new events. 
Q: Who were your biggest rivals throughout the season?
A: At the start of the year we looked at the times of Sepp Weigand as we were on a similar pace to him in Portugal.  We had also come across Sepp on a couple of European Championship rounds in 2012 on tarmac and had beaten him then, so we wanted to see how we compared.  We were right on his pace in Portugal when he went off.
In the second part of the year we started to follow the pace of Yaseed Al Rajhi in the Fiesta RRC.  This is a quicker car than we have and he was also in his second or third year in the WRC so we wanted to see how our speed compared.  It was great to see that on our first year in WRC-2 we could be on the pace of these experienced competitors, though he was quicker than us in Wales.  But that was Rob's first time on gravel in the dark since Rally of Scotland 2011 and that event didn't go to well for him then. 
We are really happy that in our first year we are on the regulars pace but we know that we have a step up to make to get right on the ultimate pace of the winners.

Q: You have two hats to wear, co-driver but also a family member of the team sponsor, has the WRC-2 class given you the exposure Tunnock's wanted from 2013?
A: Yes, it's definitely worked from a business point of view.  The Tunnock's World Rally Team has really punched above its weight in the service park at each round we competed in.  We have one of the best set ups in terms of layout and presence.  It looks smart, professional and is bright.  All of us in the team are always well presented, we are all branded in Tunnock's colours looking well turned out.  Things that echo the brand.  We received loads of comments about the presentation of the area. Plus we have given away loads and loads of wafers and teacakes at each round introducing our product to new customers.
Q: So what for 2014?

A: We are working on that just now and nothing is confirmed.  We would like to do at least the six events that we did this year again in the WRC-2 class, plus at least one more.  Ideally we would be in Monte Carlo for the start of the year.  I loved the event last year, Rob did ice-notes for us, so we kind of know the rally but we won't have the budget in place in time for that one.  It would be great to add an overseas event, so that we can see what it is like to rally outside Europe but that is a big jump in budget. 
To do WRC-2 we have to score on six rounds so we may nominate Poland as our 'spare' seventh round but there is a lot of ground work to do before any of this to get the money together. 
**