Tunnocks Goes to Wales …
A cracked gearbox in the Tunnock's World Rally Team Ford Fiesta R5 cost Robert Barrable and Uddingston's Stuart Loudon a competitive result on Britain's round of the World Rally Championship, Wales Rally GB. The gearbox cooler cracked on Friday and with only a 'remote service'; where limited repairs and parts can be fitted to the car under the sporting regulations, the CA1 Sport technicians came up with an ingenious plan to try to effect temporary repairs.
Stuart, used the body of his Tunnock's pen to repair the burst pipe. CA1Sport by passed the gearbox cooler, linking the two pipes together by using the pen as a stent that was then tie-wrapped in place. The plan was to use this temporary repair to get the team through the re-running of the afternoon's three stages. Once back on the road the pressure in the system was too great for the repair and the 'box started to lose oil once again. The team pulled over to avoid running the gearbox dry and destroying it.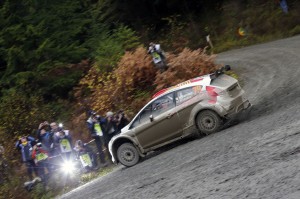 Stuart said: "The night time stages on Thursday were great and we were happy with our steady pace to be fifth in WRC-2 at the end of the day. The plan was to build on this during the daylight tests on Friday. But on the last stage before the remote service the power steering failed. The Welsh forests are full of hairpins and we had to stop to reset the electronic systems to get the steering back working, this cost us a lot of time and then the cooler in the gearbox broke."
"OK this is our last event of 2013 and while we have had two podiums, this is also our third SupeRally event; where we have missed stages through issues and then come back out later on the event with loads of penalty times. We are both pretty gutted."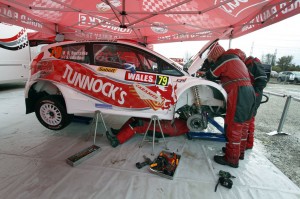 Throughout the year the team have used their six events to gain experience of the stages and to perfect their pace notes. Saturday and Sunday's stages were used to get more time in the car and to continue to look to set top five stage times in WRC-2.
"Rally GB had a new route and location for this year and the crowds lining the stages were brilliant. So we decided that we needed to entertain them a bit more, cos we were not going to get a result on this event and just wanted to have some more fun. Rob had a great time throwing it a bit more sideways than normal and giving it plenty of big slides. I was delighted at the number of Saltires that I saw, the Scottish support means a lot."
It was a point echoed by Robert: "I've enjoyed my first Wales Rally GB, although it was very disappointing to stop on Day 2 when it wasn't our fault and to have to SupeRally. Without being in a position to challenge for a result, we haven't pushed at all and it's impossible to tell what our real pace would have been like. But our times on Thursday night and Friday morning, when we were still feeling our way in, suggest that we weren't that far off the pace. Without the time penalties for missing three stages, and without the incentive to push harder than we actually did, I think we would have definitely finished in the top five in WRC-2."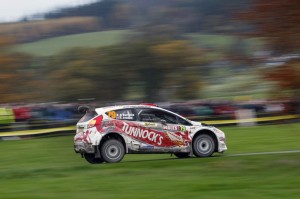 "The stages in Wales are lovely and it's been a great experience. I've really enjoyed driving through them, and without a battle for position I've been putting on a bit of a show. The spectators were brilliant. They drive a long way and have very long days, but unlike us competitors they also have long walks and many hours standing out in the cold – so it was nice to have a little play at hairpins and we've been flashing our headlights at friends at family. I've really enjoyed it, and I hope those watching have enjoyed it as well."
So after six events taking in; Portugal, Finland, Germany, France, Spain and Wales the Tunnock's World Rally Team have finished every round, bar Germany, gained huge experience and introduced mainland Europe to the taste of Tunnock's chocolate.
Robert added: "It's been a good year with lots of highs and a few lows. It would be nice to return to the WRC next year and do more rallies, because with more time in the car I'm confident we can challenge for podiums and victories."