… Land Rover Defender 110, Heritage Edition …
It's noisy, cramped, uncomfortable and has the capacity to inflict pain. But I love it. Any vehicle which has the physical presence to make you smile every time you see it must be rather special. Walking out of the house on a miserable, cold, wet winter morning and seeing that square rigged silhouette looming up out of the gloom is enough to melt the heart of a true automotive enthusiast. Either that or I'm going senile.
Looking like something which was designed by someone who played with Lego as a youngster (Lego was founded in 1932!), the Land Rover Defender is an anachronism in a modern world where aerodynamics and weight loss are the gods which govern new-age automotive design.
Sadly, the Defender has now reached the end of the road. Each new variation of the original is becoming more costly to make in order to comply with the world's desire to build safer vehicles and comply with crash regulations. Such a great pity. This is the best one yet, although admittedly it has taken 67 years to get to this level of sophistication.
And what makes it the best yet? Simple. I can fit in it – almost comfortably. The new seats facilitate a seriously decent driving position for the first time. There's leg room and headroom aplenty now although shoulder room is still tight.
The right shoulder is jammed so tightly against the door that right hand turns occasional a regular painful bang on the elbow until you learn to lean to the left or use the left hand to push the wheel on right handers. Regular drivers soon learn. It was this lop sided driving position that led to the 'farmer's list'. At agricultural markets across the country, Defender drivers are easily spotted walking with a list which makes them look as if they are constantly leaning into the wind. The only way round it is to drive the vehicle with the driver's window open so that you can lean your right arm on the sill and use it to turn the steering wheel. A feat made easier these days with the arrival of a full sized door glass which electrically slides down into the door.
Once seated comfortably, a turn of the key and the clatter of diesel mechanicals generates another smile. It's as comforting to some folk as the Hovis farmer starting up his tractor. Me included. None of this sound-insulation nonsense when you have to check the rev counter to see if the engine is running.
Selecting first gear is reminiscent of changing points in a 1930s British Rail signalbox. The change is almost effortless these days, but it clunks solidly into place with satisfying assurance. Then it's a pull on the worm and roller steering which is about as accurate as the tiller on a Forth & Clyde canal barge. Admittedly it is much better than the canvas rigged clippers of old and it does have power steering. But who needs accuracy? This is not a car for cruising the motorways of Europe, although it will do the job more than adequately, this is a car which has a forgiving nature when you go off road and ruts and boulder constantly try to deviate you from your intended direction. The play in the steering comes into its own in such conditions.
The 16 inch wheels and 235/85 Goodyear Wrangler M&S tyres ensure that limousine comfort standards are not to be expected while the stiff suspension rattles the loose change in your pockets and can loosen your dentures. But all that is minor compared to the smile factor.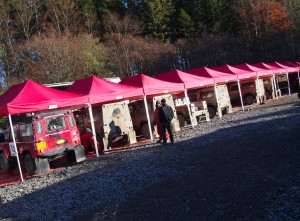 The test car was a 'last of the line' Heritage limited edition of the Station Wagon, which comes with a number of detail features to make even the clartiest, winch loving L/R enthusiasts turn soppy and go weak at their mud covered knees. The special centrally placed grille badge commemorates the original nameplate, 'period mud' flaps feature the original logo and there is a 'HUE 166' mark on the n/s front wing – a nod to the registration mark of the first ever production Land Rover way back in 1948. It's all topped off with a nice shade of 'period' grasmere green and white roof while the seats feature the old-style logo stitched into the tweed fabric. Minor things to you and me but noticed by many at last weekend's Scottish Borders Hill Rally. Quite a few stopped to chat while others noticed and pointed – and smiled.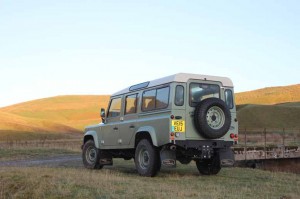 It's a full seven seater although the foldaway rearmost two seats do detract from loadspace, but at least it has a step at the ear to get the elderly in the back. For sure they won't be able to clamber into the front seats unless you park next to a high kerb! The floor of the vehicle is 62mm from the ground, that's 25 inches in real money. If you've got short legs or your knees are knackered you'll need to carry a foot stool.
On the plus side, the flat floors are level with the doors. No high sills. That means it's easy to keep clean. The boot muck and dog hair can be swept straight out of the vehicle – or hosed out if rubber mats are fitted instead of carpet. That feature might not be instantly appreciated, but given the places such a vehicles goes and the tasks it is asked to perform, it is appreciated.
These 'end of line' special editions also come with a whole range of additional features and comfort 'extras' which seem at odds with the basic functionality and purpose of this utility vehicle. It's got heated front seats and air-con, it's even got a radio with CD player and a USB point in it. It's even got remote central locking and a heated windscreen. The 12v socket is not ideally placed, behind the gear lever, but at least it has one. Luxury? Not quite, but welcome anyway.
I haven't mentioned off-road ability. There's no need. We all know what it can do, but it's worth bearing in mind that few vehicles of this size can match its 3.5 tonne towing ability.
This is a car for living with and enjoying, and in these days of personality-free motorised tin boxes, it's no wonder that such a car becomes part of the family, like a big lolloping Labrador or a pet pony.
The success of the vehicle means that its replacement due in 2017 will probably provide one of the hardest tasks in the world for a vehicle designer. Just how do you encapsulate the rugged charm and personality of such a cherished vehicle while adhering to modern safety requirements? It's no wonder Land Rover has taken so long to design its replacement which was originally due to start running off the production lines when the current car stopped. It's not just because therte would need to be a major refurbishment of the assembly lines and new equipment, they will only get one shot at creating a vehicle to replace the legend that is Defender.
As for me, would I have one? Silly question, but only as a second car. I really don't think I could live with it on a day to day basis with its uncompromising ride quality and elbow bashing interior, but for weekends and fun days, it would be hard to beat. It really is just a workhorse, but then so is the Clydesdale.
Review Date:

November 25, 2015

Price

Engine

Performance

Economy

CO2 emissions