… Jaguar XF Sportbrake 300 R-Sport …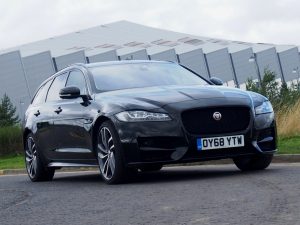 This could be a very short appraisal. I could just write the word 'fabulous' and leave it at that. Or maybe write three more – power, pace and presence. That just about sums up Jaguar's Sportbrake 300.
The figure '300' of course stands for 300PS, or 296 bhp in non-Euro money, but if you think there is a V6 or V8 under the bonnet, sadly not. The new European WLTP regulations have done for those. Instead, there is Jaguar Land Rover's own 4 cylinder, 2 litre Ingenium engine with a single twin-scroll turbocharger. In fact, it's the same engine as in the entry level F-Type.
There is another 'plus' side as well. The 4 cylinder engine is lighter than the previous R-Sport V6, which means less weight up the sharp end. That means a crisper turn-in and a more satisfying exit from corners. Of course, you don't get the same aural accompaniment, but the big surprise is it's damn nearly as quick. So close in fact you'd need a stopwatch to measure the difference as most drivers won't notice.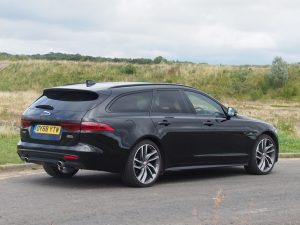 That is due to Jaguar's 'Intelligent Driveline Dynamics' system which incorporates multiple all-surface traction control technologies. It virtually eliminates understeer and reduces the likelihood of Dynamic Stability Control (DSC) intervention.
An array of sensors monitoring vehicle and road conditions calculate the surface friction and traction limits for the rear wheels. This precise awareness enables the Sportbrake to retain its rear wheel bias for longer, preserving steering feel and restricting the onset of understeer, and thereby increasing driving pleasure!
No more need for 'seat of the pants driver feel' the software uses the data unobtrusively to detect low friction surfaces faster and to predict the onset of wheel spin. It then redistributes the torque, maintaining maximum traction and preventing the DSC system from intervening.
In effect this all wheel drive transmission feels like a rear wheel drive car. When cornering, IDD predicts any wheel slip and transfers torque to the front axle, where grip is highest, before slip occurs, preventing any loss in performance.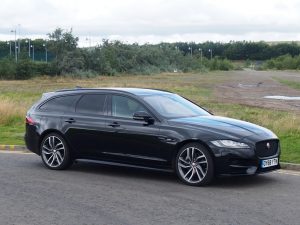 In fast corners, the IDD's torque shift capability works with other traction systems such as DSC and Torque Vectoring to help mitigate oversteer through yaw damping.
As a result, drivers can enter curves at higher speeds and accelerate sooner on exit. As the Sportbrake exits a corner, IDD creates near perfect 50:50 torque distribution for maximum grip and optimum acceleration.
Perhaps another reason it feels so quick is also down to the handling and grip levels. At 1800 kgs or so, it's not exactly heavy for an estate car so the suspension can easily cope with undulating roads. It doesn't jolt or jar, even on those 20 inch Pirelli 255/35 P Zeros, it just sinks softly into firmness. That encourages the driver to use the performance and delight in the steering feedback and underbonnet response.
The car also sits very low to the ground, so there is very little body roll, while the suspension movement is effectively controlled by the coil springs up front and air springs at the back and adaptive dampers.
This has to be one of best handling and most comfortable riding saloons on 20 inch rims that money can buy as a couple of runs across the moors from Douglas to Muirkirk proved. Not one of the country's smoothest surfaced roads but it made no difference to the Jaguar. Unruffled and relaxed.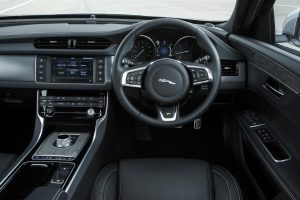 Inside the cabin, it is typical Jaguar with soft sumptuous leather upon which to sit while surrounded by leather, wood and metal. And perhaps that's another reason the car feels so quick, it's just so damn comfortable, almost to the point of cosseting.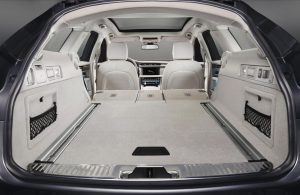 Forget exotic, overpriced sporting supercars, this is the ideal barge for continental touring. Room enough in the back for all the luggage, pace enough to cover huge distances and comfort to make the whole thing a blast. It might even make fuel stops a little farther apart.
The ZF eight-speed automatic gearbox would greatly enhance a touring holiday and it's just about quick enough for sporting pleasure, although the wheel-mounted paddles offer up a 'manual' option if the driver feels so inclined.
The only thing I wasn't so sure about was the colour. It wasn't just black, it was very black, but each to their own. If that's the only thing I can criticise then that is testament to the car's other qualities.
This is a car that is composed, classy and quick, and that makes it highly desirable.
Review Date: September 06, 2019
Price: £48,640 (as tested)
Engine: 1997cc, 4 cylinder turbo petrol with 296 bhp
Performance: 0-62 mph in 5.7 secs, flat out at 155 mph
Economy: 36.2 mpg (combined)
CO2 emissions: 155 k/gm