… Elfyn Evans returns to rallying's premier league …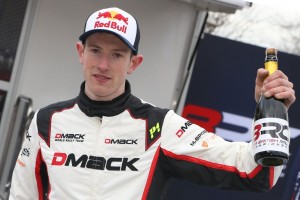 Elfyn Evans is returning to the FIA World Rally Championship in 2017 – a globe-trotting title race which blasts off high in the Alps behind Monte Carlo later this week.
The 28-year-old Welshman from Dolgellau missed out on top class WRC drive last year after two promising and progressive seasons which netted impressive podium finishes in both Argentina and Corsica.
Instead, a slightly miffed Evans found himself demoted to the WRC2 international category and contesting the MSA British Rally Championship in a less powerful Fiesta R5. Despite winning his domestic title and coming within a hair's breadth of taking the 2016 WRC2 crown, he headed into the winter with his future looking uncertain.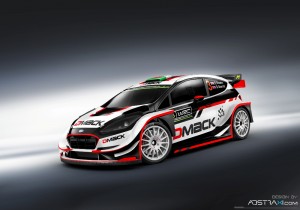 Then, after a lot of hard work behind the scenes, the announcement came that he'd been hoping for – Elfyn would return to top-flight competition with the DMACK World Rally Team, driving the third points-nominated Ford Fiesta WRC for the M-Sport squad alongside Ott Tänak and four-time world champion Sébastien Ogier in 2017.
Ahead of the start of the season, which sees the biggest overhaul of the rally regulations in 30 years with the introduction of an exciting new generation of more powerful, wider and more extreme looking cars, we caught up with Elfyn to talk about what it means to him to be back at the sharp end of the FIA World Rally Championship.
Q. How much personal satisfaction do you get from being back in a top-level car?
"Obviously it's a really exciting time for us. A lot of work and effort has gone into getting us into a position where we could come back. But to finally get the nod is very exciting, and we're really looking forward to it."
Q. How much do you think your performance in last year's WRC2 helped convince [M-Sport boss] Malcolm Wilson to get you back in a top seat?
"Well, there were a few things that needed to change, and I think we've shown that we can step up and do that. I think that that's what Malcolm was looking for more than anything, but I think as a driver, he's always had belief in me."
Q. What do you think were the lessons you took from that year in WRC2?
"Taking it back to realising why you go rallying was probably the biggest lesson. Enjoying the sport for what it is. I think it's easy to get caught up in distractions or taking a few things for granted when you're in the mad world that is the WRC and you're going from event to event without taking time to breathe, almost. It's good to pinch yourself on the arm and realise what an opportunity it is to be driving in the World Championship and really try and enjoy the driving again, because that's ultimately what brings results."
Q. How do you think your approach will change this time round, compared to your first WRC stint in 2014-15?
"I think this sport is so dependent on having experience, both of the rallies and driving the car, but also of life experience. I think that gaining a combination of the two over the years has made us a lot stronger. Working with DMACK last year on the British Rally Championship, we know how much progress they're making and obviously we want to keep making progress, so we're really looking forward to trying to put a strong year together."
Q. Obviously we've got a big rule shake up for 2017. You've tested the new M-Sport Ford Fiesta WRC quite a bit. What are your impressions of the car?
"It's all-new from the ground up, that's the first big thing. Everything from the seating position to the feeling and feedback you get from the car is different. M-Sport have just done an incredible job. It's a lot, lot faster, but it just copes with that extra speed and power so well at the same time. All the aerodynamics and the work they've done on the chassis is phenomenal. It's just a massive jump and improvement in every area, not just the obvious power changes."
Q. And how do you find the power changes? Do you think we'll still see the same guys at the top of the stage times?
"I think we have to wait and see a little bit. But I think generally, if someone was strong last year, they'll be strong this year. The previous car needed driving, and certainly this car needs driving too. I don't think a lot will change in that regard."
Q. Speaking of people who were strong last year, you've gained a new team-mate in Sébastien Ogier. Are you looking forward to working alongside him this year?
"It's great for me to be in the same team as him. He's got so much experience and has achieved so much in his career, so to have someone like that to work alongside is a fantastic opportunity. I'm really looking forward to seeing what I can learn from him this year."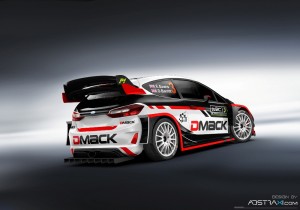 Q. The difference between you and your M-Sport squad mates Sébastien Ogier and Ott Tänak is that you'll be running on DMACK tyres while they'll be on Michelins. How much of a difference do you think that will make?
"Last year we saw that the DMACK tyres were particularly strong on certain rallies. They're always developing, always bringing out new products, and for 2017 all the [tyres] are new – although Michelin will obviously have that as well. We're certainly hoping to close that gap to Michelin a little bit more and that we'll be fighting at the front on some, if not, all the rallies."
Q. So what are your goals for 2017? Is it podiums – or maybe even your first win?
"All those things! I definitely want to be aiming for podiums again. It's a bit of an open book as to who's going to be where. But everybody's got a brand new car, there are new regulations, so it's really case of waiting to see where everybody is. My gut feeling is that everybody will be quite close, but hopefully we can be right in the thick of the action."
TV Notes: This year's FIA World Rally Championship blasts off with this week's Monte Carlo Rally and will be seen for the first time live on Red Bull TV.
Presented by Mike Chen, Red Bull TV will be broadcasting live on Saturday from each event and will host three stunning new daily highlight shows that feature all the action. All of the programmes will be free-to-air, and will include dedicated 20- to 30-minute highlights shows on the Friday and Saturday evenings of WRC events direct from the service park and a 30-40 minute Sunday evening wrap.
In a groundbreaking new introduction, there will also be a 75-minute Saturday midday special featuring a live stage. Engaging and informed presenters, news, interviews and gossip will set new standards in WRC broadcasting and bring fans closer to the high-octane action than ever – and heading into an exciting and unpredictable new era of faster and more powerful cars and a myriad of driver changes adding to the drama and unpredictability.
The first dedicated WRC programme on Red Bull TV is 9pm on Friday 20 January following the end of leg one of Rally Monte-Carlo. All shows will remain available to watch on-demand on Red Bull TV once the rally has finished.
Red Bull TV is available to watch entirely free of charge online at redbull.tv and via mobile, laptop or smart television, or on the dedicated Red Bull TV app, available both for iPhone and Android.