Jim Clark Rally meets Beechgrove Garden ….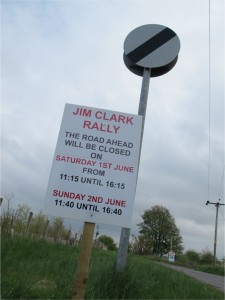 Signs of a rather unique spring growth are sprouting across the verges of the Berwickshire highways and byways, but this 'seasonal vegetation' is man-made. As part of the plan to inform local folks and advise visitors of the forthcoming Jim Clark Rally and which sections of public roads will be closed for the rally, the organisers are 'planting' small colourful signs on the approach to each section of road which will form a 'Special Stage' on the rally.
This annual event is only permitted to happen by Act of Parliament which closes pre-agreed stretches of road and suspends the Road Traffic Act for up to 5 hours at a time. This allows rallying's 'against the clock' competition to take place, a sporting activity which otherwise would not be allowed.
The organisers make strenuous efforts each year to cause minimal inconvenience to those going about their daily business and to advise them of which stretches of road will be closed and for how long. Notices in the local press and visits to householders are complemented by these small roadside reminders that the rally will be coming through.
So anyone visiting the Borders over the weekend of Friday 31st May to Sunday June 2nd, please look out for these signs and take note. However, these rare 'plants' are a protected species and should be nurtured, not trampled. Budding gardeners should not attempt to take cuttings or try to remove them!
The organisers of the rally and the thousands of enthusiasts who will descend on the Borders over that weekend are forever grateful to the tolerance, and the sporting heritage, of the Berwickshire folk who so enthusiastically support the UK's biggest motor rally each year.